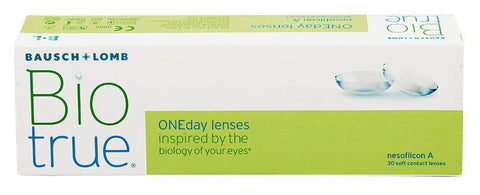 Biotrue ONEday Lenses (30 Lenses)
Rs. 2,500.00

Rs. 2,500.00
---
---
YOUR DAYS ARE LONG.
Your eyes feel moist naturally. But you put a lot of demands on your eyes. You start early and keep busy till the end of day. Plus, you're using digital devices more, which may make your contact lenses feel dry and uncomfortable.
Biotrue ONEday lenses are designed to work like your eyes, for comfortable vision throughout the day.
Key Features & Benefits
Maintains moisture for up to 16 hours.

Convenience and comfort of a daily disposable.

High Definition Optics for crisp, clear vision all day and into the evening.

UVA/UVB protection to help protect your eyes along with sunglasses.
Biotrue® ONEday is made of a unique material that works like the eye to form a dehydration barrier:
Maintains moisture for up to 16 hours.
Matches the water content of the cornea.
Allows for the oxygen a healthy eye needs.
These bio-inspired features work together to give you comfortable vision throughout the day. And because Biotrue®ONEday is a daily disposable, you're enjoying the healthy, comfortable convenience of a fresh pair every day.
Inspired by Life. Yours.™ Your day is long. Wear the contact lens that's designed to go the distance.
---
We Also Recommend